February: Duffels of Hope Drive
April Sage, Development & Outreach Coordinator
Each month, we host a drive for specific needs within our organization. Aside from our general Wish List, this helps support the efforts of various programs. When the drive changes, we will publish information about the program for that month, along with a list of the most needed items and instructions for delivering donations. If you have questions, contact April Sage at asage@homeoftheinnocents.org or 502.596.1027.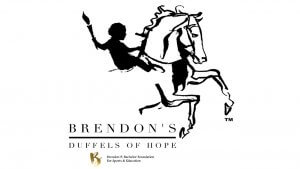 The Brendon P. Bachelor Foundation launched 'Duffels of Hope' in March of 2016. Since then, the foundation has successfully provided hundreds of children with a sense of security and hope, while providing the necessities such as toys, toiletries, and clothing in duffel bags. These duffel bags give the children an appreciation of ownership, love, and security while also helping to support the community agencies caring for them.
This partnership between the Brendon P. Bachelor Foundation for Sports & Education and Home of the Innocents benefits and strongly supports local foster children.
The duffels are distributed to kids who enter the Home's emergency shelter, who are discharged from their residential treatment program, and who are going to a new foster family placement. They also go to homeless young adults who enter our Aftercare program (independent living and transitional services), as well as refugees who are patients at Open Arms Children's Health, the Home's comprehensive pediatric medical center.
Due to limited space, used items are not accepted. Items can be dropped off at our main entrance Monday-Friday, 8:30 am – 6 pm and Saturday 9 am – 4 pm. Please be sure to label all boxes and bags: Duffels of Hope. All donations are 100% tax deductible. Questions about this donation drive? Contact April Sage at asage@homeoftheinnocents.org or 502.596.1027.
Brendan's Duffels of Hope Wish List
All Ages
Shampoo
Conditioner
Body wash
Lotion
Socks
Undergarments
House slippers/shoes
Ponytail holders
Comb/brush
Clothes (all sizes and seasons)
Toothbrush
Toothpaste
Deodorant
First Aid Kit
Travel pillow
Water bottle
Washcloth
Hand towel
Infants/Toddlers
Formula
Blankets
Diapers
Pacifier
Bottles
Teething rings
Diaper rash cream
Teenagers
Sanitary napkins/tampons
Shaving cream
Razors
Umbrella/poncho
Small blankets
Hat, scarf, and gloves