Superman Jonah
Papaw Rick Knight, grandparent of resident
I'd like to introduce you to our little Superman! My grandson Jonah was born with what most doctors have described as the most severe case of Marfan syndrome they've ever seen. Given little hope of survival as a newborn – less than three days – we are so pleased to say that Jonah is now 5 years old and thriving at Home of the Innocents in the Kosair Charities Pediatric Convalescent Center (KCPCC).
Some of the obstacles that Jonah has faced in his short five years are congestive heart failure; three open heart surgeries; issues with his feeding tube; digestive disorder; immune deficiency; severe scoliosis causing his spine not to just curve, but it is also twist, making his organs shift around;  hypermobility in all of his joints; severe/chronic Lung issues; he is ventilator/trach dependent; he has sensitive skin; and 20/200 vision.
In September 2013, Jonah was rushed by ambulance to SSM Cardinal Glennon Children's Hospital in St. Louis, Missouri. Upon arrival, his temperature had risen to 108.7. We were once again given no hope of survival, and if he did survive, he would never be the same again. The high temperature was too much for anyone to overcome.
In the Spring of 2014, our family was told there wasn't anything else that could be done for Jonah. We should take him home and enjoy what time we had left with him. With the high fever and the overall change in Jonah's condition, his care at home was simply too much for my daughter and her husband to handle, even with the help of some in-home health nurses. Through much heartache, my daughter and son-in-law had to make one of the hardest decisions they've ever had to make. They simply could not handle Jonah at home with all the care he required. This began the search for a place that Jonah could be sent to receive the treatments and care that he would need.
The first place that was found was in the southeast suburbs of Chicago. That meant a six hour drive from his home in Illinois for any of our family to visit him. The family started calling every hospital they could think of. When we spoke to Norton Children's Hospital in Louisville they told us about Home of the Innocents. The rest, as they say, is history. We believe that God has had his hand in Jonah's life since day one. There is a waiting list to get a bed in KCPCC, but God flew open the doors and a bed was available in the time frame we needed.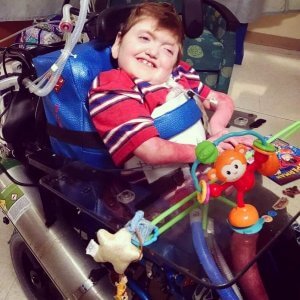 Home of the Innocents has been such a huge blessing to our family. Jonah is alive and doing well, much better than anyone ever thought he would, even the doctors and nurses who work at the Home! We hear stories about how scared everyone was to handle Jonah because of all the issues he's had. Now, I think sometimes they fight over who gets him. His smile is infectious! His demeanor is inspiring. He has the loudest silent laugh you will ever hear.
This is only such a small portion of his journey. If you would like to know more about Jonah please like his Facebook page and read the About section. February is Marfan Syndrome Awareness Month. If you would like to learn more about Marfan Syndrome please visit their website: www.marfan.org.