Small Children, Big Battles
Allison Doan, Occupational Therapy Assistant and Casey Drake, Physical Therapy Assistant
"Sometimes, real superheroes live inside the hearts of small children fighting big battles." -Unknown
In the Kosair Charities Pediatric Convalescent Center at Home of the Innocents, we have the privilege of working with some of the coolest heroes you will ever meet. We would like to introduce you to "Karter with a K."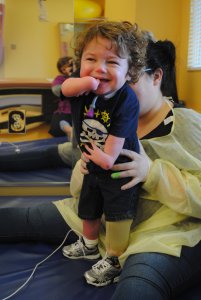 Karter was born with a genetic condition that causes physical abnormalities and other medical complications. Prior to coming to the Home, he underwent multiple surgeries to correct many of these issues, but still required a ventilator to assist with breathing when he arrived. He was beginning to work on sitting and learning to explore his environment despite his many limitations.
Karter has always been a very happy and energetic little guy who loves to play. He began to progress quickly with therapies and his overall health improved. With the help of respiratory therapy, he was able to be weaned from the ventilator. He began to sit independently and started to crawl. However, Karter was limited in further mobility by an abnormality that caused his left leg to be shorter and his foot to be turned in. His parents met with a surgeon and made the decision to amputate his left foot so that he could be fitted for a prosthesis. Throughout this process, he learned to come to sit independently and was crawling all over the place.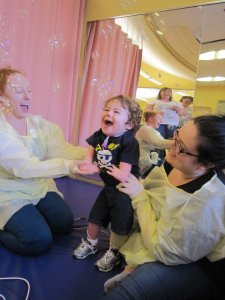 Thanks to Kosair Charities, Karter recently received his prosthesis and has begun to work on standing. As you can tell by the pictures, he is very excited to finally be able to stand on his own two feet! Karter's ultimate goal is to return home with his wonderful, loving family which will be a very bittersweet moment for us. Until then, we look forward to being a part of Karter's continued growth and development.