Let's Hear it for Connor!
Rachael Victoria, Marketing Intern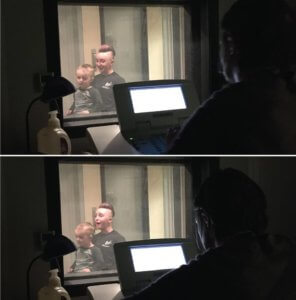 We met Connor a few months ago at Open Arms Children's Health when he had his cochlear implants turned on for the first time. Connor was back in our offices last week for a follow-up appointment, and we caught up with him and his mom, Hope, to see how he is doing!
"We are doing sign language at in his speech therapy sessions and he's babbling all the time. We have noticed he is starting to look when you say his name. He says 'mama' very well! He will say 'I' and 'Hi.' We can turn on his favorite television shows; he will hear it and start dancing. It's just so awesome because he never did any of this before. This is the best decision we could have made for Connor and seeing the outcome of his progression in just in a few months is crazy to us. We are very fortunate we had this opportunity for Connor and can't thank everyone enough for all the help and support for us," shared Hope.
At his recent follow-up appointment with Dr. Shelley Moats, his hearing was tested in our sound booth. Dr. Moats said, "He is hearing deep sounds and will continue to make more progress with the help of Open Arms and his Early Interventionist." Connor started meeting with his Early Interventionist a week ago. Hope says, "She is stern and we really like her. She and Dr. Moats have really helped us in our journey with Connor's implants so far."
We are thrilled to see the great progress Connor and other patients with Little Ears at Open Arms Children's Health are making! If your child is in need of hearing services, call 502.596.1040 for more information.