Helping End Homelessness
Liza Smith, Employment Specialist for Aftercare
When most people think of homelessness, an 18-24 year old young adult is not the person that comes to mind. But that's the population filling shelters. They're sleeping in their cars, abandoned buildings and other locations not suited for human habitation. Often, these individuals have young children. They may have a job, but they are under employed. Or they have barriers like previous debt or evictions that prevent them from being able to obtain an apartment without assistance. This is the population that the Home's Aftercare Program serves and assists.
As the Employment Specialist for Aftercare, I see clients that need assistance with anything job-related. I help with finding a job, career planning, even finding clothing and transportation for work. I come from a teaching background. I've taught in traditional school settings, as well as in non-traditional environments like museums and after school programs. I use my teaching skills to help connect with my clients and bring unique experiences to help teach skills. I meet clients in their homes or at the local library, offer them food while we meet, drive them to interviews and even watch their children during their meetings and appointments with employers.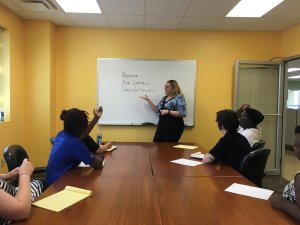 I work with employers throughout the community as well. Building relationships with them to help break down barriers that Aftercare clients face. Our clients can often come into our program with background issues – no permanent address, lacking identifications and without reliable transportation. All these barriers can prevent our clients from being hired, and my goal is to break down a few of those barriers to help them gain employment. These employers are vital for our program. Their willingness to work with us gives me a list of potential places that I can get a client a job. Employers don't guarantee jobs, but by working with us, they give our clients an opportunity for a job that they may not have had without that connection. Employers also have the security of knowing that these clients are working with me on employment skills, and as a result this means that they should have a general knowledge about employment practices. By teaching these skills, employers feel more comfortable knowing that Aftercare clients may be more prepared for working at their location.
The multiple aspects of my position create new challenges for me every day. One day I'm watching an eight month old while her mother is receiving job specific training for several hours and the next I'm explaining to employers why our clients are the perfect candidates for their open positions. No two days are the same for me, and I love that about my job!
If you own or manage a business in any field and you're interested in working with the Aftercare Program to help end youth homelessness, please contact me at 502.439.9894 or esmith@homeoftheinnocents.org.