Help us make some holiday magic!
Rachael Victoria, Marketing Intern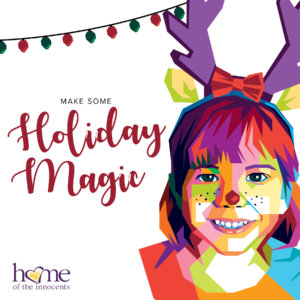 Imagine waking up on Christmas morning to realize that another year has gone by and you don't get to open presents with your family by the Christmas tree in your own home. This story resonates with the kids at Home of the Innocents. Unfortunately, they do not all get to enjoy Christmas with their loved ones. Instead, they make the most of what they have here at the Home and celebrate the holiday season with roommates, friends, classmates and staff members.
The kids at Home of the Innocents rely on the help of YOU, our generous community, to participate in our Holiday Magic program and make Christmas magical for them. What exactly is Holiday Magic? An individual, family, church group, club, business – anyone who wants to help a child in need – purchases presents for them. They receive a child's wish list from the Home and fulfill those wishes! Once the gifts are purchased, they are dropped off in person or shipped to the Home.
We also encourage our Holiday Magic participants to include personal hygiene items with their gifts as well; they are always a blessing to our kids.
If you would like to participate in Holiday Magic, email April Hall at AHall@homeoftheinnocents.org and put Holiday Magic 2017 in the subject line of the email to request a child's wish list!
'Tis the season to give and share with those in need in our community, and ensure the children at Home of the Innocents wake up to a gift under the tree with their name on it.