Gaining independence with a smile
Jessica and Brandon Mitchell, parents of therapy patient
Our daughter Alayna was born five weeks early on January 11, 2013, weighing 3lbs 5oz.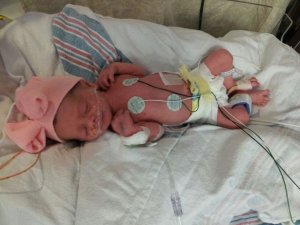 It was discovered that she suffered a fetal stroke a couple months before birth. She also suffered from intrauterine growth restriction and the umbilical cord was 1/3 the size it should have been.
The doctor that delivered her told us if we had not come to the hospital when we did, she would not have made it.
Even before birth, Alayna had already overcome many obstacles. At about two months old, we noticed her movements were different than what we remembered her big brother's to be at that age and began keeping a close eye on her development. At three months old, she was beginning to be delayed and at six months old was placed in the First Steps program receiving physical therapy and occupational therapy.
Her progress was very slow and she was not meeting milestones or goals that were set for her with physical or occupational therapy. We requested her doctors order an MRI of her brain as it was suggested that she may have Periventricular Leukomalacia (PVL).
On December 20, 2013, we received the phone call from the doctor confirming that Alayna did in fact have PVL and that it was severe (on both sides of her brain). A month after that, her neurologist diagnosed her with Spastic Quadriplegia Cerebral Palsy, meaning all four of her limbs are affected. Following these diagnoses, we continued with physical and occupational therapies, and added in speech therapy, until she turned 3.
Upon aging out of First Steps, she began physical and speech therapies at the Kids Center for Pediatric Therapies. Through the Kids Center, we learned of the heated therapy pool at Home of the Innocents by participating in a study hosted by Bellarmine University and Dr. Ennis. Once that study ended, we have continued to attend the pool with the Kids Center therapist.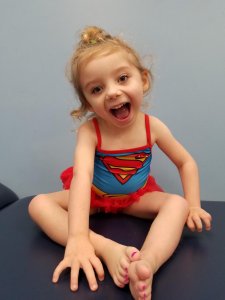 In the pool, Alayna is free to move and stretch her muscles in a way that she is unable to outside of the water. The heated therapy pool is truly her happy place and we are so thankful to be a part of the Home of the Innocents community!
Alayna loves to play with her dad and big brother Mason, listen to music and watch cartoons. Although she is not able to walk, she has a power wheelchair she is learning to operate independently. Alayna loves to laugh and play with her friends and caregivers at Sproutlings Daycare. She requires assistance with all activities of daily living, but she works hard in every therapy session to gain independence. And she does it all with a smile!