Brendon P. Bachelor Foundation's 'Duffels of Hope' Announces Partnership with Home of the Innocents
Brendon P. Bachelor Foundation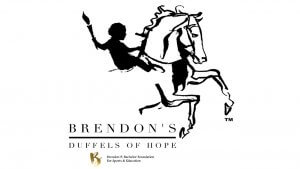 Louisville, KY (August 30, 2017): The Brendon P. Bachelor Foundation is thrilled to announce their new partnership with Home of the Innocents. This partnership between the two organizations will benefit and strongly support Kentucky's most vulnerable citizens – local foster children.
Brendon P. Bachelor Foundation launched 'Duffels of Hope' in March of 2016. Since then, the foundation has successfully provided hundreds of children with a sense of security and hope, while providing the necessities such as toys, toiletries and clothing in duffel bags. These duffel bags give the children an appreciation of ownership, love and security while also helping to support the community agencies caring for them.
"Our partnership with Brendon's Duffels of Hope has been a wonderful addition to the resources available to our clients." says Lydia Bell, Senior Vice President of Community Engagement for Home of the Innocents. "Something as simple as handing a child their own bag full of items provides so much dignity for kids who are already struggling with trauma and loss.   Home of the Innocents is proud to work with this wonderful foundation to ensure as many children as possible receive the duffels.  It seems a simple act, but it has very real and lasting impact."
The duffels are distributed to kids who enter the Home's emergency shelter, who are discharged from their residential treatment program and who are going into a new foster family placement. They also go to homeless young adults who enter their independent living and transitional services program, as well as refugees who are patients at Open Arms Children's Health, the Home's comprehensive pediatric medical center.
Home of the Innocents is the perfect partner for Brendon's Duffels of Hope. Erica Bachelor says, President of Brendon P. Bachelor Foundation, "Home of the Innocents has been a trailblazer in our community caring for our underprivileged youth.  It's our goal at The Brendon P. Bachelor Foundation to get Brendon's Duffels of Hope in the hands of those in need as quickly as possible, and Home of the Innocents makes this happen.  We are very excited about our partnership with the Home and the impact Brendon's Duffels of Hope will have on the lives of Kentucky's youth."