2017 Germantown Schnitzelburg Blues Festival
Gary Sampson, Kentuckiana Blues Society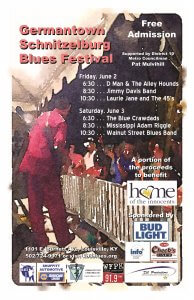 On Friday and Saturday, June 2 and 3, the Kentuckiana Blues Society (KBS) and Check's Cafe will host the eighth annual Germantown Schnitzelburg Blues Festival at the corner of Hickory Street and Burnett Ave. In addition to our sponsors, we receive support from District 10 Metro Councilman Pat Mulvihill. The street festival with an outdoor stage will have three blues bands each evening starting at 6:30 pm and playing until midnight. Admission is free and a portion of the proceeds will be donated to the Home of the Innocents. Local blues performer Artie Wells of the Walnut Street Blues Band will be honored on this year's festival t-shirt.
Schedule for Friday, June 2
6:30 – 8:00 D Man & The Alley Hounds
With Don Oswald, aka D Man, at the helm, The Alley Hounds pack enough energy on stage to make a dead man wiggle his toes. Rooted in blues, vintage rock, fuzz, and jazz, the music created by D Man and the Alley Hounds will get things groovin' in any crowd. D Man's wildly memorable guitar artistry is what the stage show is all about. His amazing virtuosity will get 'em on their feet!
8:30 – 10:00 Jimmy Davis Band
Jimmy Davis is a singer, songwriter, and guitar virtuoso from Madison, IN. He is already a seasoned veteran of the midwest music scene with a heavy blues influence, mixed in with Jimmy's studies with heralded arranger jazz composer Carroll Decamp and Nashville guitarists Terry Wedding and Scotty Anderson. His music has developed into a unique culmination of many different styles utilizing everything from hard rock to country and delta blues. The Jimmy Davis Band has been performing to packed houses for over a decade with their brand of funk-infused and guitar driven blues. Jimmy has shared the stage with likes of blues legends Lonnie Mack, Son Seals and Junior Watson and has over 2,000 shows under his belt. From Chicago to Texas blues, from Muddy to originals, J.D.B. never fails to deliver!
10:30 – 12:00 Laurie Jane and The 45's
Laurie Jane and The 45's are a band of best friends, brothers, a husband and a wife. Their sound is a melting pot of 1950's big-city electric blues with the high energy sounds of early rockabilly and soul. Laurie Jane's jazz-influenced vocals, sincere and restrained, float across the depths of Cort Duggins' 12-string slide guitar and deep blues picking. Jason Embry's upright bass and Scott Dugdale's drums lay down raucous, swinging backbeats.
Schedule for Saturday, June 4
6:30 – 8:00 The Blue Crawdads
Listen to The Blue Crawdads' new album Live! Straight from the Mud and you'll discover an earthy mixture of blues, soul,and rock & roll with a sprinkling of funk and a hint of mountain music. Hailing from the Appalachian hills of southeastern Kentucky, The Blue Crawdads have brought their original songs with deep roots to festivals, nightclubs, coffee houses, and house parties since 2014. Past recordings have included the EP's Bluefield and A Crawdad Christmas, as well as a New Orleans-style cover of "Just a Closer Walk" recorded live with bluegrass mandolin virtuoso Virgil Bowlin. Their songs "Cumberland River Blues" and "Good Lovin' Is My Business" have provided the soundtrack for web-based commercials for Barbourville Tourism and Wildcat Harley-Davidson.
8:30 – 10:00 Mississippi Adam Riggle
Mississippi Adam Riggle was taught by the men that helped shape the blues in the Mississippi Delta. He was eleven yearsold when he visited his first juke joint in Clarksdale, MS called Smitty's Red Top. It was there that he met blues musicians James "Super Chicken" Johnson, "The Oil Man" Big Jack Johnson, Mr. Johnnie Billington, and others. He became friends with them, and by age thirteen he was sitting in with many of these bluesmen. Under the tutelage of Wesley "Mississippi  June Bug" Jefferson, Adam became an official member of the Wesley Jefferson Southern Soul Band until the untimely death of his mentor in 2009. Adam continues to prefect his skills as a bluesman by playing the clubs in and around the Louisville area, sometimes traveling to Mississippi or Chicago to perform. Not looking for fame or fortune, but feeling blessed he has the opportunity to "play the blues for you." His band includes long time bass player James Warfield, who has sixty-plus years experience, Lenny Popp on drums and occasionally Brick Marlin on harmonica.
10:30 – 12:00 Walnut Street Blues Band
Started by KBS founding member Foree Wells in 1989 with his sons Greg and Michael, the Walnut Street Blues Band has played gigs from Chicago to Atlanta and represented the blues society at the International Blues Challenge in Memphis.  Their CD "It's a New Day, Brother" is available at the Kentuckiana Blues Society booth.
Festival Sponsors
District 10 Metro Councilman Pat Mulvihill
Bud Light
Check's Cafe
Info+
Germantown Chiropractic
Shuffitt Automotive Napa AutoCare Center
WFPK
DC Productions
Kentuckiana Blues Society
For more information on the Germantown Schnitzelburg Blues Festival, please contact KBS board member Gary Sampson at 502.724.9971 or by email at gary@kbsblues.org.
https://www.facebook.com/events/1327500504005869/